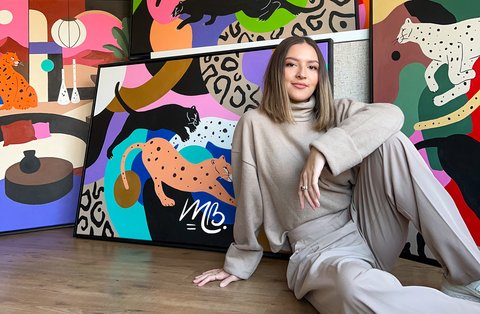 About
Mariah Birsak is a Dutch/Moluccan artist from Amsterdam, the Netherlands. Her body of work serves as a reflection of her personal vision and artistic style, capturing the intricacies of life and exploring the delicate balance between strength and vulnerability, courage and hesitation, curiosity and enthusiasm.
Mariah draws inspiration from a diverse range of sources, including acclaimed artists like Henri Rousseau, the captivating Japandi interior design style, and the vibrant aesthetics of the 70s and 80s. However, it is her use of the leopard as an alter ego that truly distinguishes her art, conveying a profound message about the inherent strength and vulnerability that coexist within each of us. The leopard symbolizes determination and vulnerability, representing the intricate dynamics of our lives.
Through her art, Mariah strives to inspire individuals to embrace the complexity of existence and discover beauty in the harmonious interplay between opposing forces. She extends an invitation to embrace an open-minded perspective, allowing wonder and enthusiasm to infuse our perception of the world that surrounds us. Ultimately, her artwork serves as a catalyst for self-discovery and connection, empowering individuals to explore their inner strength while embracing their vulnerabilities.
By sharing her passion and vision with others, she aspires to ignite a sense of exploration, prompting people to welcome the unknown and perceive the beauty in life's imperfections and unpredictability.
Mariah's work has been exhibited in galleries and exhibitions across Europe, South-Korea and Australia, and her paintings have been collected by individuals and art collectors. Her unique approach to color and composition has garnered her critical acclaim and a loyal following.

Representation
Malagacha Gallery, Strasbourg France
Carré d'Artistes, Europe / Asia / Australia / US
Pinzle, Seoul South-Korea
Millecent Agency, Paris France
Eyefood Factory, France / Austria / Australia


Exhibitions
The Hyundai, Seoul Korea 2022
Eyefood Factory, Nice France 2022
Paradiso, Ibiza Spain 2018 – 2021
Rivoli 59, Paris France 2021
Malagacha Gallery, Strasbourg France, 2021 & 2022